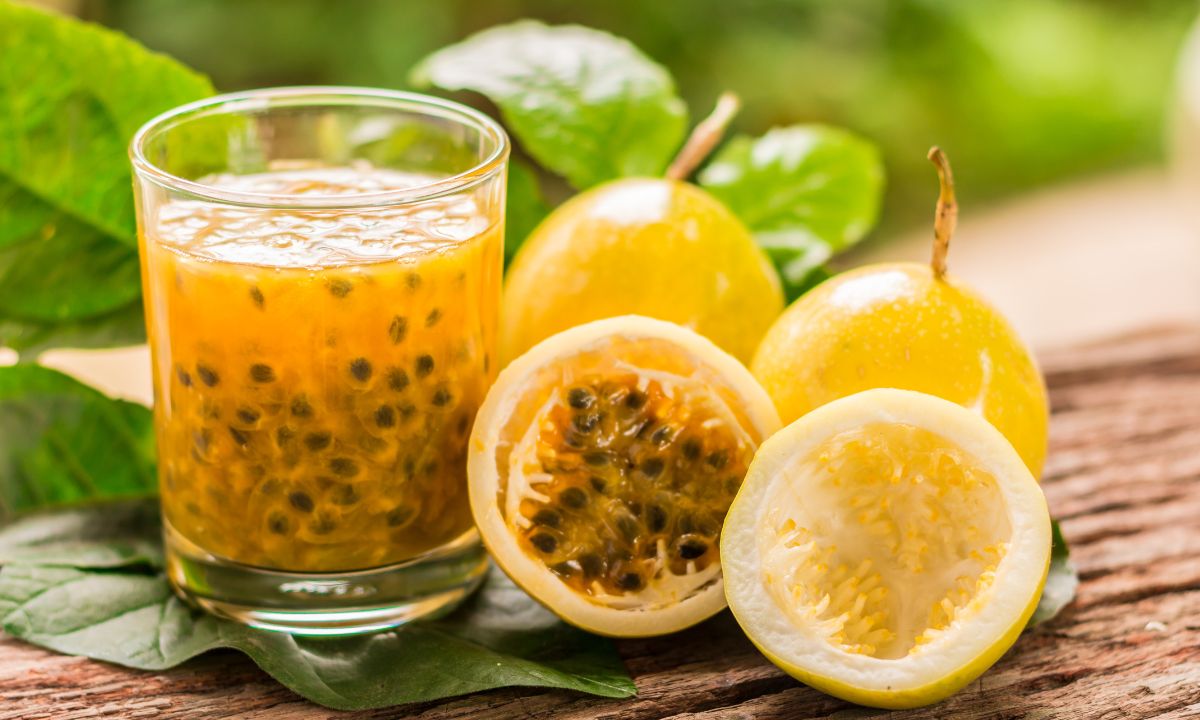 Passion fruit is used in some of my favorite Vietnamese summer recipes. The most popular is the passion fruit tea recipe. In a passion fruit tea recipe, tea must first be brewed before being flavored to taste with honey. Strain the passion fruit pulps to obtain the juice while the tea is cooling.
The word "passion fruit" refers to one of the many passion flower species, also known by its Latin genus name, Passiflora. In 1553, the passion fruit tea recipe was first brought to Europe. The passion fruit can be round or oval. They can be red, yellow, purple, or green. The fruits' delicious, tasty center is made up of many seeds.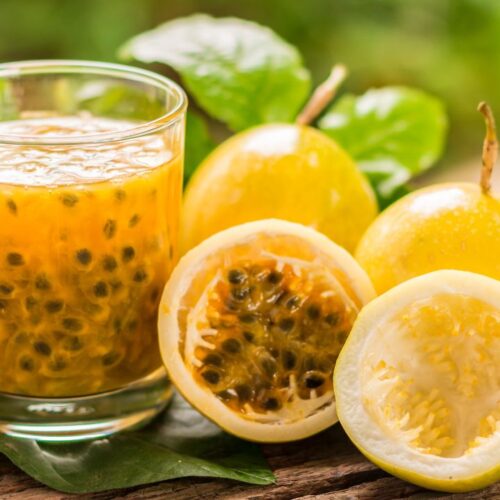 Tropical Passion Fruit Tea Recipe
It only takes 10 minutes to prepare a delicious and pleasant beverage called passion fruit tea recipe. Use this simple method to make it from fresh passion fruit.
Ingredients
2-3

cups

Water

4-5

Passion Fruit

chopped

2

tsp

Black Tea Leaves

1

tsp

Lemon juice

1-2

tsp

Honey

3-4

Mint Leaves

6-8

Ice cubes

1-2

Green Tea Bags

optional

Black Pepper
Instructions
Boil the water with black tea leaves or green tea bags until it changes color or bubbles.

Please switch off the flame and strain the tea and allow it to cool completely. Add honey, stir and let it rest.

Squeeze the lime juice and keep it aside.

Also, scoop out the passion fruit pulp and strain to remove the seeds and set aside.

Add passion fruit, lemon juice, and mint leaves along with the boiled tea mixture in a blender and give a good mix.

Sprinkle black pepper, add ice cubes, stir the passion fruit tea, and serve the cool tea with the mint leaves as garnish.
Notes
To make this tea tastier, add loose tea leaves.
Ensure that after boiling the water with tea leaves, strain properly so that no leaves are left in the tea; otherwise, the tea will get bitter.
You can extract juice from passion fruit pulp by pressing it with the back of a spoon instead of blending the whole fruit.
Conclusion
This passion fruit iced tea recipe has a delicious, calming aroma from the passion fruit and is incredibly refreshing. It is simple to make with only 5 basic ingredients and no processed sugar. A great summertime beverage to fight the heat!
Fresh passion fruit pulp, black tea (or green tea) leaves, and lime juice are combined to create the delicious drink called passion fruit tea recipe. With the acidity of the passion fruit and lime and the sweetness of the sugar, it bursts with tropical flavors.
FAQs
What is the flavor of a passion fruit tea?
This passion fruit green tea has a flavor that is intensely tropical, slightly grassy, and nutty. It is fun and everything but dull. It is my favorite iced tea to date and is extremely cooling.
Has caffeine been added to passion fruit tea?
50-60 mg of caffeine per cup, a moderate amount, is present. Pour 8 ounces of 185°-195°F water over a heaping teaspoon of tea, let it soak for 3-5 minutes, drain the tea, remove the infuser, and serve hot.
How is the tea made from the passion flower?
A unique variety of tea called passionflower tea is produced from the passionflower, a tall, strong climbing vine with sections that rise above the surface. The vine's upper part makes tea, medication, and other natural cures.