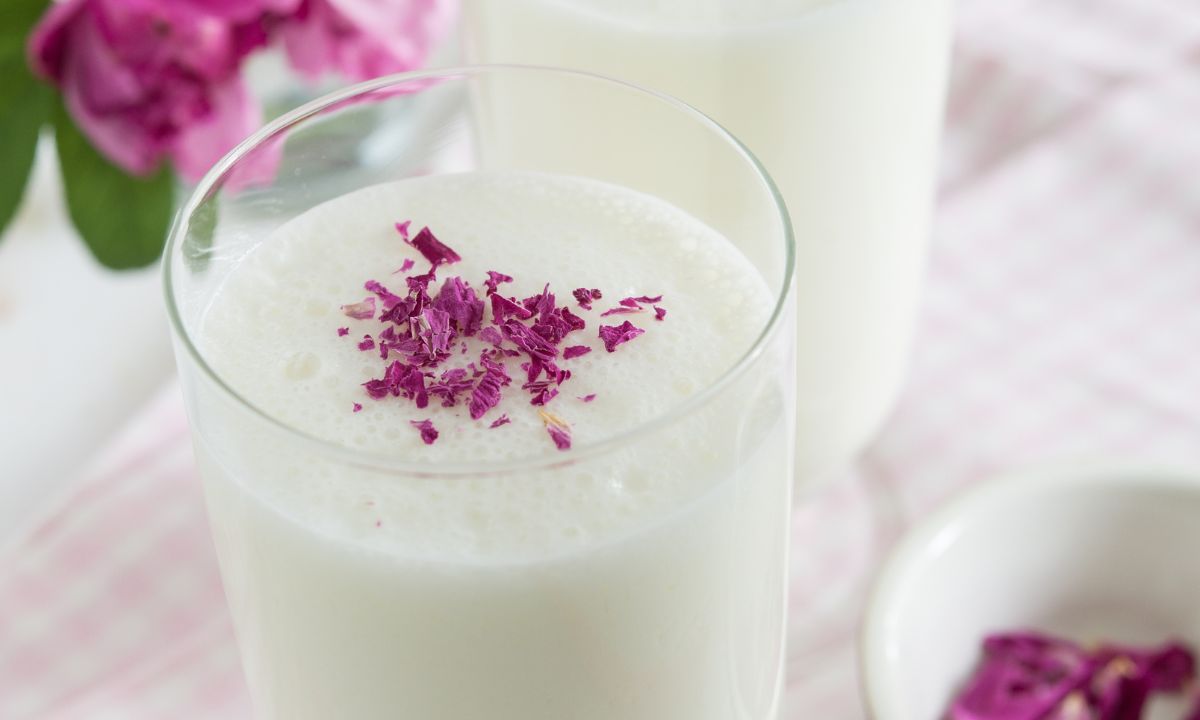 Table of Contents
Lassi is a well-known yogurt beverage from India that is now consumed worldwide. It only requires a few simple ingredients and tastes best when served cold.
A basic plain, classic Lassi rose recipe calls for plain whole milk yogurt (curd or dahi), milk, rose syrup and ice.
A refreshing drink for the summer is the rose lassi recipe. It must be chilled before serving, whether in sweltering heat or with spicy cuisine.
A rose lassi, sweet like a dessert and cools your tummy, is a perfect way to round off a spicy Indian meal.
How To Make Creamy Rose Lassi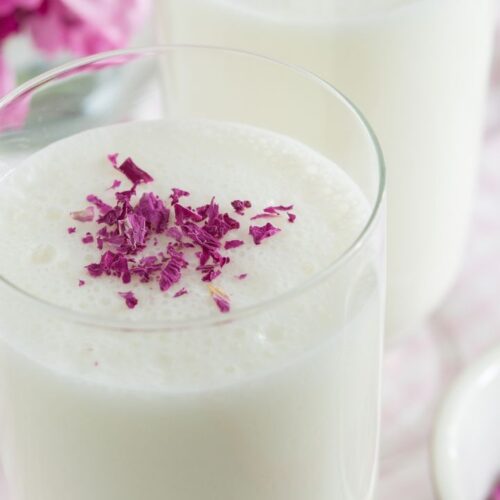 Creamy Rose Lassi Recipe
Lassi tastes great on its own, without fruit or other flavours. However, when rose syrup is added, the basic Lassi is transformed into the magical rose lassi.
Ingredients
2.5

cups

hung curd

4

Tbsp

Rose Syrup

1

tbsp

of honey/sugar

if needed

1

cup

Water

Ice cubes
For Garnish
Finely chopped Pistachios or Almonds

Rose petals
Instructions
For Hung Curd
To make hung curd, put a strainer in a large basin and cover it with muslin cloth.

Add the curd, then join the muslin cloth's edges with a knot.

To drain the whey, hang the curd in a cool location for at least an hour. As an alternative, you may weigh down the curd.

Transfer to a bowl.
For Rose Lassi
Mix the hung curd, rose syrup, sugar, and ice cubes in a blender to make rose lassi. Blend until smooth.

If it has a consistency that is too thick, add some water.

Refrigerate the lassi for at least 1 hour.

Serve this chilled rose lassi and garnish with some rose petals and finely chopped dry fruits.
Notes
I do not advise using honey in this recipe because it does not mix well with cold liquid (but you could boil it with milk or water and freeze it first). However, maple syrup does mix well with cold beverages.
A higher fat-content yogurt is required for creamier and thicker lassi. I would choose at least Fage 5% Greek yogurt for a rich lassi.
This recipe mostly does not require added sugar because the syrup is already too sweet. The rose syrup should be used sparingly because it is potent and may make the lassi too sweet. It is preferable to continue adding more.
Conclusion
The greatest accompaniment to this Rose Lassi is any spicy or another Indian dish. It pairs well with spicy Indian snacks like Chorafali, Bhakarwadi or Aloo Bhujia. When the Rose Lassi is poured into a serving glass, it will have a creamy, foamy top.
Many Indian restaurants serve lassi in tall cups. It is perfect for date nights or serving as kid entertainment because of its vibrant pink colour! Then, Why wait? Make this rose lassi now to cool off in the summer.
FAQ
What is Lassi?
The yogurt-based beverage lassi is a native of the Indian subcontinent. With a mixture of yogurt, milk, spices, fruit, and other flavourings, it is often made sweet or, on rare occasions, even salty.
Can I make rose lassi with Greek yogurt?
Yes, you should substitute dahi with the same amount of plain Greek yogurt, preferably with some fat content. To change the thickness, add milk.
Which rose syrup is the finest to use?
I suggest Rooh Afza, which is available in any Indian market. Another excellent alternative is gulkand, or rose petal preserve.