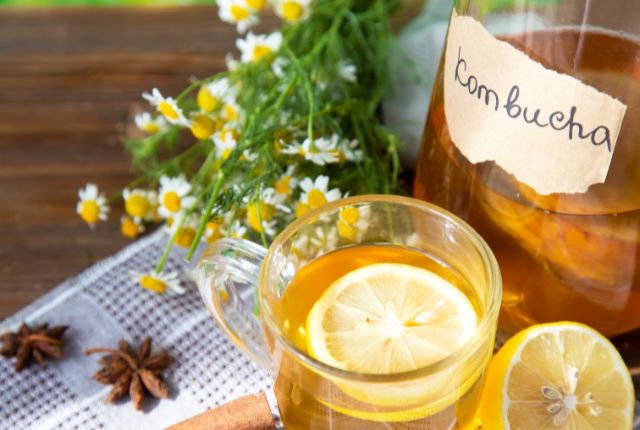 Kombucha is believed to have originated in China and Korea. Then it started gaining popularity in Russia, Germany and other parts of Eastern Europe. Kombucha tea can be homebrewed, bottled and sold commercially. Kombucha Tea is also known as fungus, mushroom, sour, and fermented tea.
It is fermented using SCOBY, which is a symbiotic growth of bacteria and yeast. Scoby is also commonly called "tea fungus" or "mushroom".
This drink is sparkling and has a slightly sweet-tart taste that is enjoyed even by non-tea drinkers. This is a healthy option to replace your alcoholic drinks with this fermented, fizzy tea.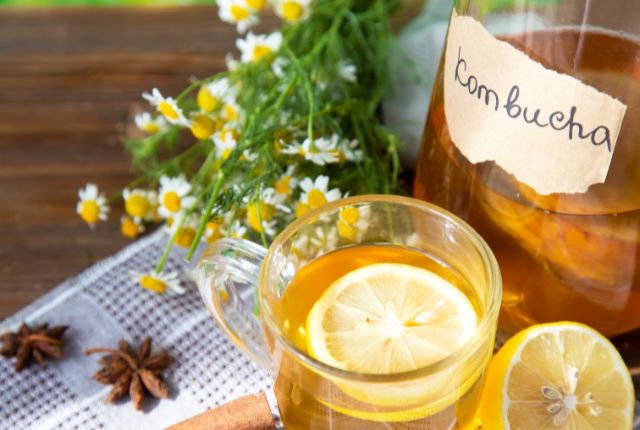 Fizzy Kombucha Tea Recipe
Kombucha tea is a fermented, fizzy, sweetened tea. It tastes like a sweetened black tea, but it transforms into a tangy, effervescent beverage after fermentation.  
Ingredients
3-4

cups

Water

1

cup

Sugar

table sugar or brown sugar

5-6

tbsp

Green tea or caffeinated tea

or black tea

2

cups

Unflavored kombucha

1

Scoby

1-2

cups

Chopped fruits

2-3

tsp

Herbs or spices

1-2

cups

Fruit juice
Instructions
In a pan, take cold water and add sugar. As soon as the water starts to boil, let it boil for a couple of minutes.

Take it off the flame, add green or caffeinated tea, and stir. Make sure that the sugar and tea are diluted completely.

Let it steep for 15-20 minutes and then check the temperature of the tea. Add kombucha as soon as the tea is cool or lukewarm, and pour the tea into a wide-mouth glass container. You can add a half cup of water here and mix well.

Now add SCOBY, cover the container with a double-layered muslin cloth, and secure it with a rubber band.

After 7 days of fermentation process, take the jar, pour the tea into another container, and discard the kombucha or SCOBY at the bottom. (you can use this for preparing another batch)

After a week of fermentation, you can have this drink fresh. Here you can add fresh herbs or spices, fruit juice and chopped fruits to add flavour to the tea.
Notes
Use the double-layered cloth, secure it properly, and place the jar in a warm and clean place.
You can add fruits of your choice, and ginger can also be added to increase its health benefits.
Avoid using metal utensils while preparing this drink, and make sure that you ferment this drink in a glass container.
Put the jar away from direct sunlight and place it in a place that has normal room temperature.
Kombucha is a sweet tea fermented with the help of SCOBY, a "Symbiotic culture of bacteria and yeast". The SCOBY eats most of the sugar in the tea, transforming the tea into a fizzy, slightly sour fermented beverage low in calories and sugar.
The kombucha tea-making process looks long and complicated, but it is a very simple and streamlined process. You can prepare a batch of kombucha tea and store it in a bottle for seven to ten days.
FAQs
What is kombucha tea?
Kombucha tea is consumed majorly because of its health benefits. It is generally known as kombucha. Sometimes the beverage is known as kombucha tea to distinguish it from the culture of bacteria and yeast. Kombucha is a fermented, lightly aerated and sweetened black tea.
When should I drink kombucha tea?
Kombucha tea can be enjoyed at any time of the day. You can consume it before, during or after a meal. Kombucha tea is a perfect accompaniment to a meal in the place of wine, beer or soda. Eating kombucha tea during meals helps aid digestion and makes you feel full.