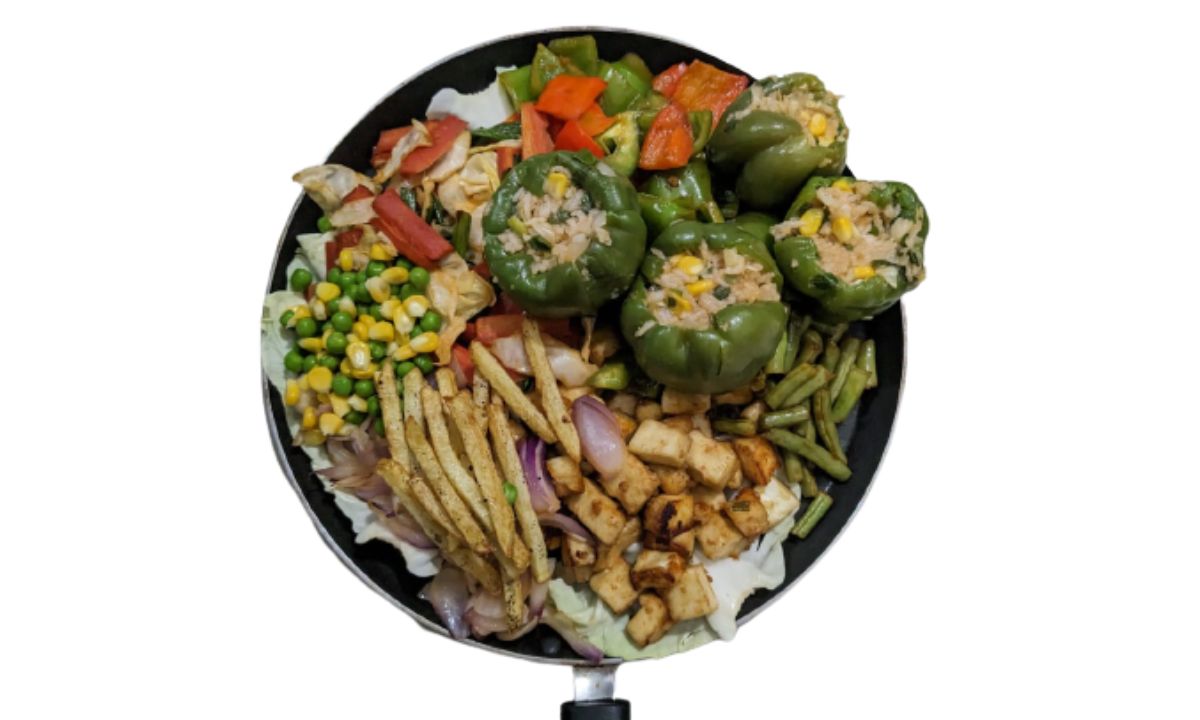 It's not clear where veg sizzler came from, but it may have started in India and then spread to places like Europe and the United States. Veg sizzler recipe is a popular vegetarian dish that is usually served with rice or bread. It can be found at many restaurants and cafes.
The idea behind the sizzler is to give people a hot, tasty meal that is also healthy. In the past few years, vegetable sizzler have become more popular as more people look for healthy plant-based foods to eat.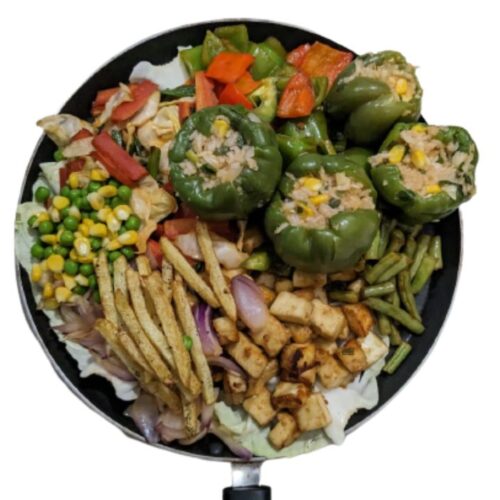 Veg Sizzler – A Perfect Plant Based Cuisine
Veg sizzler recipe normally consists of a mixture of vegetables, such as bell peppers, onions, and mushrooms, served on a hot metal plate and spiced.
Ingredients
For Rice
1.5

cup

rice

2

chopped green chilli

¼

boiled sweet corn

¼

cup

chopped green beans

¼

cup

chopped green capsicum

¼

cup

chopped carrot

1

tbsp

spring onion

1

tbsp

tomato catchup

1

tbsp

red-chilli sauce

Salt to taste

2

tbsp

oil

½

tsp

black pepper
For Vegetable aloo tikki
2

cup

boiled and mashed potatoes

¾

cup

soaked poha

½

cup

chopped carrot

½

cup

chopped capsicum

½

tsp

black pepper powder

1

tsp

chaat masala

2

tbsp

rice flour

1

tsp

red chilli powder

Oil for frying

Salt to taste
For Barbecue sauce
½

tsp

ginger paste

½

tsp

garlic paste

½

cup

chopped onion

¾

cup

tomato ketchup

½

tbsp

soya sauce

½

tsp

mustard powder

½

tsp

cumin powder

½

tbsp

red chilli powder

¼

cup

jaggery

Water to melt jaggery

¼

cup

vinegar

1

tsp

butter

Some oil
For Vegetable stir fry
1

tsp

butter

1

tsp

chopped garlic

1

tsp

chopped ginger

½

cup

carrot slices

½

cup

boiled corn

½

cup

tomatoes

½

cup

boiled peas

½

cup

green beans

½

cup

red capsicum

Salt to taste

½

tsp

black pepper powder

¼

tsp

sugar

100

gm Paneer

3-4

green capsicum
For French fries
2-3

medium size potatoes

Oil for frying
Instructions
For Making rice
Put oil and butter in a wok and heat it up.

Now add all the vegetables and salt, and cook on high heat for 2 to 3 minutes.

Add tomato catchup & red chilly sauce.

Add pepper powder and cook for a minute on high heat.

Add the cooked rice and the green parts of the spring onions. Mix well with the vegetables, stir, and cook for another 2 to 3 minutes.
For Making veg aloo tikki
In a mixing bowl, add grated boiled potatoes, soaked poha, rice flour, chopped carrot and capsicum, salt, red chilli powder, black pepper powder, and chaat masala. Mix well, then bind the mixture together to make dough.

Put some oil on your hand, take some of the potato mixture, and roll it into a ball. Make a small circle on the ball by pressing it with your finger.

Put the tikki in the fridge and let it chill for half an hour.

Heat the oil in a pan, add the tikki, and cook them over a medium-low flame until they are browned and crisp on all sides.
For barbeque sauce
Put tomato sauce, sauce, mustard powder, cumin powder, and red chilli powder in a mixing bowl. Blend well.

In a pan, melt the butter, then add the ginger paste, garlic paste, onion, jaggery, and the water needed to melt the jaggery.

Mix well and add the tomato sauce mixture.

The last step is to add vinegar and cook the sauce until it gets a little thicker.

For stir fried veggies

Put butter in the pan and fry the paneer over medium heat until it turns light brown. Set it aside.

To make stuffed peppers, boil the peppers and stuff them with rice.

Now, heat the butter and oil in a second wok over a high flame. Add all the vegetables, ginger, garlic, salt, sugar, and pepper, and cook for 4-5 minutes over a high flame.
For French fries
Cut potatoes into the shape of fries and fry them in oil over a medium heat until they are slightly crispy and golden brown.

When you're done making the rice, aloo tikki, stir-fried vegetables, and French fries, put them all to the side.

Now the final step is to prepare the sizzler tray.

Red-hot the sizzler plate above a flame. A prepared oven can heat them for 30 minutes. Place heated plates on wooden trays.

Place two cabbage leaves on plates greased with oil or butter. Put a couple potato tikkis on one side, rice and french fries in the centre, and stir-fried veggies, stuffed capsicum, and fried paneer on the other.

Serve it sizzling with corn, barbecue sauce, and extra butter.
Notes
To sizzle the plates, spray water.
If you don't have a sizzler plate, preheat the non-stick tawa and put everything in it.
Choose your vegetables and if you want you can add spaghetti or noodles.
Sounds and smells like a sizzling success; your sizzler is ready to be served.
Conclusion
There are no restrictions on what may or cannot be included in a sizzler; use your imagination. From tikkis to vegetables, noodles to rice, and sauce to croutons, you may combine all of your favourite items into a sizzler, while keeping the quantity size large enough to serve two or three individuals.
FAQs
What's in Veg Sizzler?
Veg sizzler includes paneer, vegetables, sauces, rice, spices, and seasonings.
What may replace the sizzler plate?
Our households may not have hot plates to serve sizzlers. An iron cast plate or non-stick Tawa or pan are good alternatives.