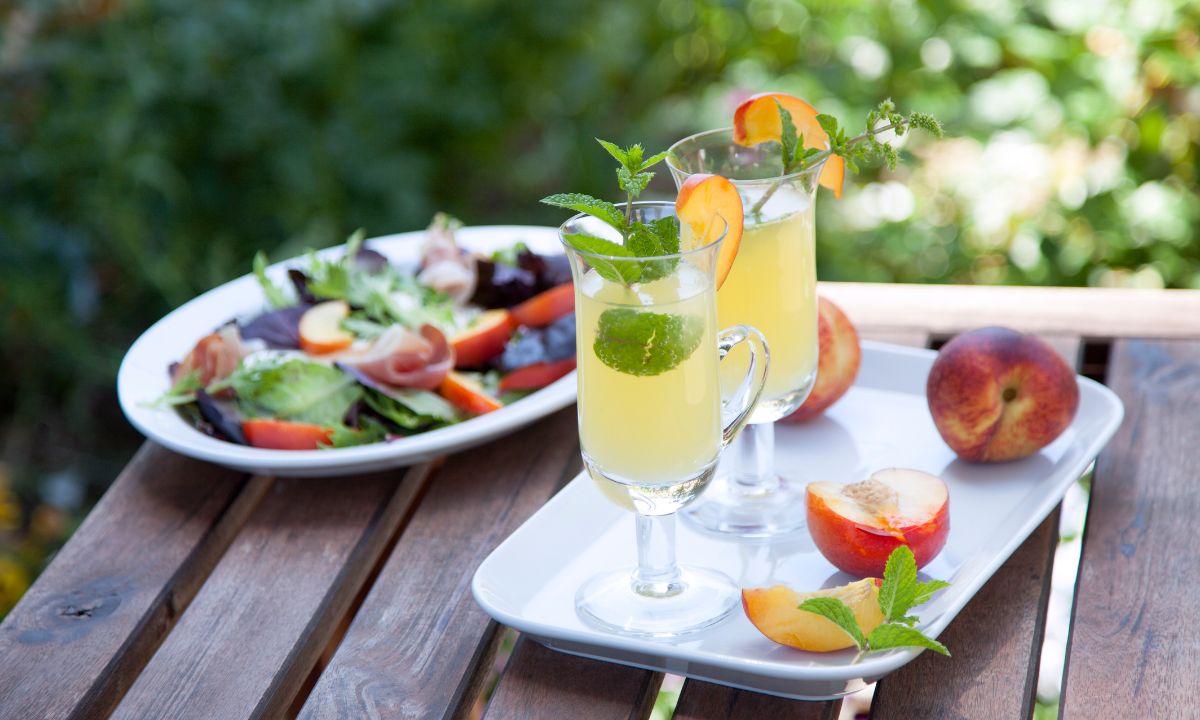 Table of Contents
Have you ever had the pleasure of sipping on a mojito? The energizing drink, characterized by its blend of lime and mint, is ideal for the summertime, and we have been drinking it nonstop since we discovered it.
This light peach mojito recipe includes natural fruit for the flavor, and honey, rather than simple syrup, contributes just a touch of sweetness to the drink. It is the ideal beverage for outdoor events such as barbecues, picnics, and a typical Tuesday evening.
How to Make Peach Mojito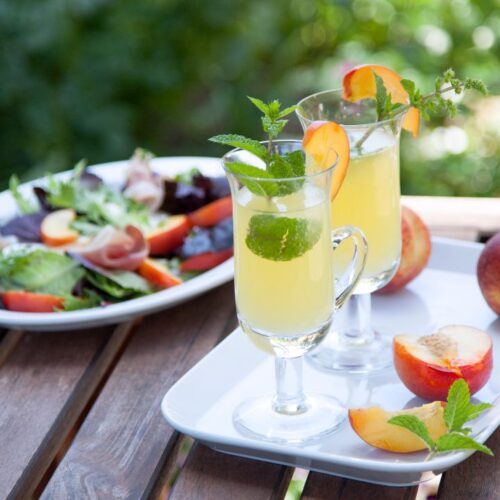 Peach Mojito Recipe
This energizing beverage is sure to win over the admiration of your guests. Enjoy your very own homemade peach mojito by serving it in chilled glasses or jars.
Ingredients
5-6

Fresh Mint Leaves

1

tbsp

honey

or maple syrup

2

tbsp

Lime Juice

2

ripe Peaches

¾

cup

Club Soda or Sparkling Water

4-5

ice cubes

2-3

lime wedges

optional
Instructions
Blend the peaches, honey, lime juice, and rum until smooth.

To make mojitos, split the mint and muddle it in the bottom of your glass.

Put some ice in the glass and then pour in the sparkling water.

Fill the glass with the peach mixture.

You can use the extra peach as a garnish if you like.
Notes
Add the peaches, lime juice, and sweetener to a blender and process until smooth and thick. The peaches can be mashed by hand if you don't have a blender.
Preparing the peach purée in advance will make party preparation a breeze. It can be stored in the refrigerator for up to two days or frozen for later use.
The mint leaves are best muddled with a muddler, although a mortar and pestle will also do.
Complete the cocktails with your preferred fruit-flavored sparkling water for an extra fruity kick.
Conclusion
I really hope you'll give these peach mojitos a shot this summer when the weather is warm. Because of their simple preparation, great peach flavor, and refreshing qualities, they are an excellent method to beat the heat of the summer.
FAQ
Does a peach mojito include alcohol in it?
Peach Mojito with Vitamin C and Genuine Lemon Juice. The Peach Mojito is the perfect beverage for non-drinkers who want to enjoy the rich peach flavor of summer on a lovely beach.