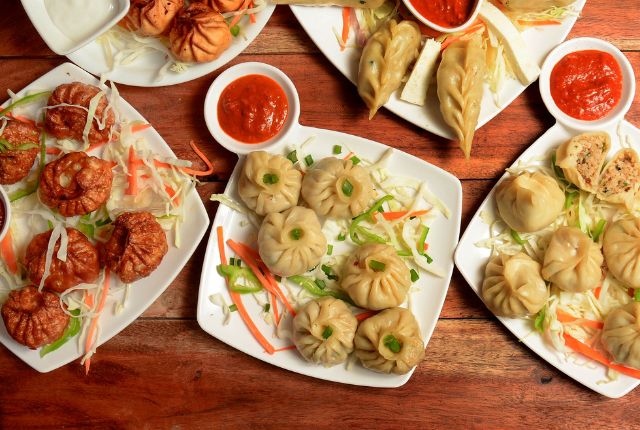 Momos is a famous street food in northern parts of India. Another name for momos is Dim Sum. They are dumplings made from maida or other flour with savoury stuffing.
There are several varieties of momos based on the locality. These tasty varieties of momos can be found in the food fares and street markets.
We have several momos recipes to make this snack healthier and satisfy your cravings for momos.
This kind of momo is easy to make at home with the ingredients available and would taste like the one you eat in the street market.
Common Ingredients and Directions
Momos are steamed, baked or deep-fried. Generally, steamed momos are preferred with the stuffing of mixed veggies.
The vegetables included in the filling are carrot, capsicum, French beans, cabbage and onions.
All-purpose flour is used to prepare the dough. You can also use whole wheat flour. The stuffing has a balanced taste and is lightly spicy.
Dumplings or momos are served with a spicy red sauce. The shape of momos is similar to the kachori.
To make momos, prepare dough from all-purpose flour (maida), salt and oil.
For stuffing, cook the veggies of your choice and saute them in a pan with garlic, spring onion, soya sauce, black pepper and salt.
Steam the dumplings and then serve them with spicy schezwan sauce, tomato sauce or red chilli garlic sauce.
Here are the various types of momos you need to try :
1. Steamed mix veggies momos
The basic and most popular type of momos is steamed momos. All the variations of momos are created from these steamed momos.
When dipped in a spicy garlic chutney, this steamed, fluffy, and saucy momo is an absolute delight for a momo lover.
The dough is prepared, and then the stuffing of mixed veggies is added, and the dumplings are pleated and sealed.
2. Kothey momos
The latest and the tastiest momos are kothey momos. If you don't like fried momos, kothey momos are what you should try to get a break from steamed momos.
They are pan-fried momos with a crunchy covering that goes well with chilli garlic sauce.
Take any steamed momos and roast them slowly in the pan. Kothey momos make you well-fed and satisfied.
3. Spinach momos or green momos
To ditch unhealthy street food, here is a healthy alternative. Green momos are the latest in town, which have spinach as the primary ingredient.
The bright green momos look appealing in themselves. All you need to do is blend the spinach leaves, prepare a thick paste, and knead the dough with the paste.
For the rest, follow the process of making the simple momos. Make sure that the consistency of the dough is moderate.
Another way is to include spinach in the filling to increase the health count.
4. Cheesy momos
Cheese lovers here are something for you to try over again and again. The cheesy dumplings are stuffed to the brim with hot melted mozzarella.
While making them at home, you can experiment with the ingredients, like adding corn kernels or seasoned mushrooms.
After steaming the momos, you must pour the grated cheese over them and sprinkle some oregano and chilli flakes.
The cheese will melt slowly, and the momos taste similar to pizza.
5. Mushroom momos
Mushroom momos have increasing popularity among teens. Garlic mushroom soup and chilli mushrooms are relished by teens nowadays.
And so mushroom momos are getting popular among teens as it includes mushroom and onions in the filling.
6. Soup and dumplings
The best snack to try on a cold winter evening or during rainy days. A dumpling submerged in a vegetable broth with good seasoning is just magical.
Enjoying hot momos with spicy garlic and tomato chutney is just another bliss.
Although it is more alluring when the soup and these dumplings come together, for soupy momos, you can add any type of momo in a hot, spicy and tangy soup.
Vegetables like cabbage, carrot, radish and spring onions can be included in the soup and the stuffing of momos.
7. Paneer momos
To enhance the taste of the momos, paneer can be added. This makes momos a fantastic dish to have.
Paneer momos specialty is they are delicious and rich in nutrient content as well.
For those who love desserts and momos, here is something for you. This is a special dish for dessert lovers.
The stuffing of these dumplings includes various chocolates similar to chocolate cookies. This dish has different categories.
Conclusion
Momo is a gastronomical delight for every person, and a little pocket of happiness is what you need to try.
Just imagine the visual plate of momos with the spicy red sauce makes a street food lover's tongue tickle.
What are you waiting for? Make this delicious snack loved by one and all. Try the different and innovative types of momos.